Jameis Details Pediatric Cancer Experience
November 19th, 2015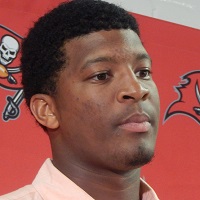 On Sunday morning, Joe shared the wonderful story circulating through social media of America's Quarterback, Jameis Winston, fulfilling the request of a young child in a grave condition.
Yesterday, Joe asked Jameis how his good deed came to be.
Joe will leave you Jameis' touching response, as transcribed by the Buccaneers.
"I was sitting at my house watching TV and people just starting texting me saying, 'Jameis check your Twitter.' I'm not on my Twitter during the season, but, 'check this, check that,' so I checked it and it was a little kid who has cancer," Jameis said. "His mom was trying to get in contact with me. Some lady had reached out to me and she had sent me the information that I needed. I contacted [the child's mother] and she didn't have an iPhone, so I couldn't FaceTime him at that time, so we just sat on the phone in pure silence for at least five minutes.

"I was like, 'Well, we have to find an iPhone so I can FaceTime him. We're just sitting here, can I talk to him?' She said, 'No, you can't talk to him, his dad has an iPhone, he'll be right back.' So I'm waiting.

"Next thing you know, I hear a knock at the door and Kwon Alexander is coming in my house, and I was like, 'This is great. This is going to make this kid's day.' I got me, Kwon, and we had Rannell Hall as well. It was like he was about to meet basically the Bucs' team. He's about to feel like one of us. Eventually I was like, 'Ask the nurse if she has an iPhone.' The nurse ended up having an iPhone. We ended up FaceTiming on the nurse's iPhone. I talked to him. He's a huge Florida State fan. It's just some motivation. A kid is lying on his deathbed and all he wants to do is just talk to me, just say hey. He didn't say much, but I could just feel the room just light up and I know he was happy and that's all that mattered to me, that he was happy and he got what he wanted."
Be proud of your quarterback.