Home Field Has To Matter
November 15th, 2015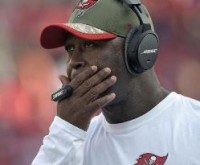 What could Lovie Smith possibly say to Team Glazer and legions of Bucs fans, if the Bucs can't win two of their final four home games?
Of everything gnawing at Joe's Bucs-loving soul, Tampa Bay winning one home game in its last 13 tries is No. 1 on the list.
It is simply unacceptable and inexcusable.
Good franchises, good teams, or teams heading in the right direction, have some sort of home-field advantage. The Bucs have none.
You want to judge Lovie Smith's job security after the season? Look at his home record in the second half of this season.
Today, the Bucs are home facing Dallas, losers of six in a row, followed by home games against Atlanta, New Orleans and Chicago. Those are all very winnable games. Heck, the Bucs already beat the Falcons and Saints on the road.
The Den of Depression nickname for the home turf must end. Home field has to matter.