Halftime Of Doug Martin's Dash For Cash
November 13th, 2015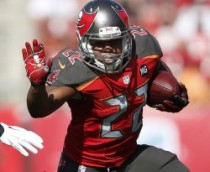 Doug Martin is on a two-game streak of sour play, leaving the Bucs' bell cow running back at a crossroads.
In 50 short days, the NFL regular season is over.
Martin's rookie contract will be up and the Bucs will be faced with a decision.
In total, Martin had a very strong first half of the season. He's on pace for 1,286 yards rushing and six touchdowns on 286 carries. But Martin has coughed up a couple of balls, dropped a likely touchdown last Sunday, and he's been a non-factor out of the backfield. He's also certainly not much of a pass blocker.
And then there's those last two games, a combined 102 yards on 34 carries, with a drop and a fumble — and a quick locker room exit.
Joe is not down on Martin. Not at all. Joe never thought the guy was the next Adrian Peterson. But these are judgment days upcoming for The  Muscle Hamster.
Charles Sims has been surging, and young productive running backs are easy to find on the cheap or in the later rounds of the draft. Plus, Lovie Smith might have a simmering Matt Forte yearning, as Forte will be a free man after the season.
Martin is a big key to the second half of the season. He's healthy and has everything to play for, and a strong offensive line. He has to produce.