Martin And McCoy Bolt From Locker Room
November 8th, 2015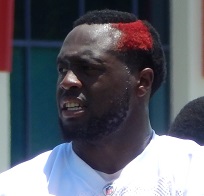 A couple of big-name Bucs handled todays' frustrating defeat and their respective rough outings in different but very similar ways.
When the Bucs' locker room opened to media, Martin was exiting fast in jeans and a polo shirt before anyone could talk to him.
Gerald McCoy took his time getting dressed, as various media types waited for his usual postgame Q & A. McCoy readied himself, and then pushed through the crowd and took off.
That was highly out of character for McCoy, who usually likes to hold court.
Frustration is clearly boiling in McCoy. Whether it's his declining play or the toll of another year of losing is unclear. Or perhaps he doesn't feel like the team leader any longer?