McCoy: "Hey, G, You're Not Getting It Done."
November 12th, 2015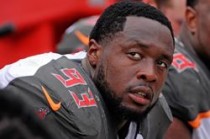 Does Joe head to strip clubs and/or poker rooms when finished wrestling with the dean of Tampa Bay sports radio, Steve Duemig, every Wednesday?
No. Joe listens to Gerald McCoy open windows to his soul on the Buccaneers Radio Network.
Last night was no exception.
McCoy wanted to make it clear that cries about his play from all sources aren't louder than the voices in his head. McCoy said it's key for all players, especially great players, to realize they're not playing up to par before someone else tells them.
"You need to say, hey, G, you're not getting it done. It needs to get done," McCoy said of his private dialogue with himself.
"I'm a realist. There's not a fan or a media member or a coach that can tell me more than me that I need to pick it up," he said. "Because I'm my biggest critic. Whether it may be a coach or head coach or the GM, whoever it is, may think they can tell me more than me what needs to happen, I'm not saying technique-wise or game-plan-wise, I mean as far as my play or my effort, whatever it may be, it has to be better. It needs to be better. And it will be better.

"Because with me being the quote-unquote leader, or one of, in order for a team to make the next step, your best players have to be your best players. And it's not like our team is full of just guys, but when you have a group of guys who are titled the best players on the team, they have to be on top of their games at all times. There is no room for error. Yes, we're human. Yes, we're going to make mistakes. We're not always going to be on point.

"But in order to be improve, you have to be real with yourself and understand there are flaws and mistakes that are made. And they need to be fixed."
McCoy went on and on talking about how he will stop at nothing to right his personal ship. And he said fans should be confident that it will be straightened out quickly.
So where will McCoy's start in order to fix himself? Joe will serve that up in a separate post this morning.