Clashing Looks At Post-Carolina Jameis
November 12th, 2015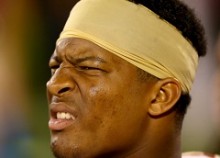 So what changed for America's Quarterback, Jameis Winston, after his gruesome, four-interception performance against the Carolina Panthers 5 1/2 weeks ago?
Asked yesterday whether that game ever got him down and how he bounced back, Jameis was emphatic that he wasn't down.
"Never," Jameis said. "That's what I did, I bounced back. You put the game behind you and you bounce back stronger. One of my favorite artists always says, 'Minor setback for a major comeback.' We had a little setback there – I turned the ball over way more than I expected to – and I just focused on that, taking care of the football. The offense has been looking good. We've established the running game. We've got some passes here and there. The offensive line is looking amazing. We just have to score in the red zone and finish."
But tight end Cameron Brate hopped on the Buccaneers Radio Network this week and painted a different picture of the post-Carolina Jameis.
"I know [Jameis] beat himself up pretty bad after that Carolina game," Brate said. "He kind of pinned that one on himself, which wasn't necessarily true, but five turnovers is definitely tough. Yeah, he's just kind of devoted himself to protecting the ball at all costs. If the throw's not there, he's done a good job of checking it down or scrambling as he showed on Sunday with that touchdown."
Joe thinks one reason Jameis has cemented himself as team leader is because he was, in fact, so down after the Carolina game visibly took the loss so hard. His teammates saw the authenticity of his pain, and the subsequent ability to change and improve.
Sorry, Jameis. Joe doesn't believe you were "never" down. You just used that pain and setback to your advantage.