"Every Time He Was On The Sideline Crying, I Tried To Wipe His Face With A Towel"
November 3rd, 2015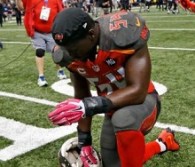 Joe really tried to steer clear from the story surrounding the death of Kwon Alexander's brother late last week.
Writing about it just feels like cashing in on a death.
Unlike most journalists, Joe actually owns and has full control of these pages. So Joe doesn't answer to attention-hungry editors, or worry about having a job next week.
Joe didn't even listen in the Bucs' locker room on Sunday when Alexander was made available to talk to media.
Regardless, the story had some importance to Joe because other Buccaneers said it was important to them.
Speaking last night on the Buccaneers Radio Network, Lavonte David revealed that Alexander was not just playing hard and rallying to win for the team and his late brother, Alexander literally struggled emotionally throughout the game and teammates were aware and reacting.
"Every time he was on the sideline crying, I tried to wipe his face with a towel," David said of Alexander. "So I just try to be there for him through the good and the bad. That's the type of guy I want to be for him."
Powerful stuff.
David added that Alexander verbally leaned on him through the game to get through it and stay focused.