Demar Dotson Pointing Toward Inactivity
November 16th, 2015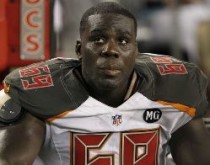 The way general manager Jason Licht was talking on the Buccaneers Radio Network pregame show yesterday, exciting developments are forthcoming on the Tampa Bay offensive line.
Joe primarily is referring to mighty rookie guard Ali Marpet returning to the field after an ankle injury in Tampa eight days ago. Licht heavily downplayed the extent of Marpet's injury and said he expected Marpet back quickly. He added that this kind of ankle issue was nothing new for Marpet and was the kind of thing he's played through previously.
Joe saw Marpet walking around the Bucs' locker room with his ankles un-taped and little sign of a limp on Wednesday. It's a good bet Marpet resumes practicing in pads this week.
Yesterday, when the Bucs went added an extra tight end on certain running plays against Dallas, it was guard/tackle Kevin Pamphile reporting as the eligible receiver. Former starting right tackle Demar Doston, who returned to the roster last week after an injury, was not the choice.
So if Marpet returns in Philadelphia on Sunday, then look for Evan Smith to return to backup guard-center duty, while Pamphile is the backup tackle on game day. Typically, the Bucs activate only seven offensive linemen for games, so Joe expects Dotson to be without a helmet unless something drastically changes this season.
At this point, the only possible change is Dotson getting a shot to replace Gosder Cherilus at right tackle, who had a rough day Sunday. Joe doesn't expect that to happen soon, though.