Bucs Still Breathing In Playoff Hunt
November 29th, 2015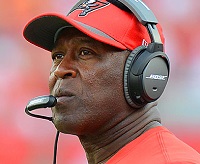 Updated: 7:44 p.m. – Despite today's frustrating loss in Indianapolis, the Buccaneers are very much alive in the NFC Wild Card hunt.
Things broke very well for Tampa Bay today.
First, the Redskins own a tiebreaker edge with the Bucs because they beat them head-to-head in the Capital Collapse on Oct. 25. But the Skins seized the NFC East lead with a pounding of the Giants this afternoon. Both teams are 5-6 like the Bucs, but Washington owns the division tiebreakers now. That's great news for Tampa Bay because Washington has no teams with winning records left on their schedule. None.
The Giants have Carolina, Minnesota and the Jets on their remaining schedule. Joe likes the Bucs' odds of finishing with a better record than New York, and the Skins winning the NFC East.
Also, the Falcons were buried by the Vikings today, lost their fourth straight and fell to 6-5. If the Bucs beat them Sunday, then Tampa Bay will own the tiebreaker edge.
The last peg that had to fall into place is Seattle losing to Pittsburgh. But the Seahawks pulled out a shootout win to move to 6-5.