Best Of The Bucs' Cornerbacks, Lovie Says.
November 11th, 2015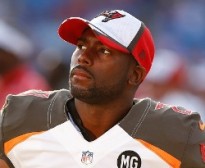 Joe had a simple question for Lovie Smith today in the wake of the massive cornerbacks shakeup Sunday.
Coach, was the best play you've gotten from your cornerbacks this season?
Yes, Lovie said. The change to Sterling Moore and undrafted rookie Jude Adjei-Barimah, represented a significant upgrade from Johnthan Banks and Mike Jenkins.
Lovie took a follow up question and made sure to lump new nickel cornerback Alterraun Verner into the mix. Lovie said any corner should want to play nickel because the position is in the middle of all the action.
Joe knows Lovie doesn't see Verner's move inside as a demotion. Once upon a time, Lovie coached nickel cornerbacks himself while serving as head coach in Chicago. And now, the Bucs have a dedicated nickel coach, Larry Marmie, one of Lovie's mentors early in his career.
It's a very safe bet that there will be no changes at cornerback Sunday against the Cowboys and Dez Bryant.