Another "Cheap Shot" By Akeem Spence
November 15th, 2015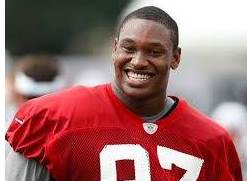 Interesting video has emerged from New Jersey on Akeem Spence.
Bucs fans remember how Spence had a truly moronic roughness foul late in the Giants-Bucs game last week that gifted the Giants a first-down on their closing drive. A Giants punt was forthcoming on fourth down with the Bucs trailing by only five points, but Spence's selfishness wiped that out.
However, that wasn't the only time Spence lost his cool. Former Giants four-time Pro Bowl guard Chris Snee was part of a video breakdown of the Giants' O-line play in that game, and he noted what he calls an ugly "cheap shot" by Spence. It's all in the video below. You might have to rewind the play at least a few times.
Giants lineman Weston Richburg sees Spence's cheap hit and jumps in to drill Spence. You'll then see Kwon Alexander throw a shot to the face on Richburg. Officials' flags were not flying.
It's over, but the play highlights the lack of discipline on the Bucs, who are on pace to set a new NFL record for penalties in a season.
(Also, Snee isolates how Gerald McCoy is the focus of any O-line because of his greatness.)
Enjoy the NJ.com video below.