1,038 Yards, And Five Games From A Showdown
November 29th, 2015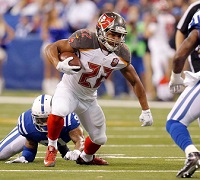 Joe can't find any real happiness this evening, but there's plenty of appreciation for Doug Martin as Joe sits in the Indianapolis press box.
Martin had 14 rushes for 96 yards today, highlighted by a 56-yard explosion behind Logan Mankins and Donovan Smith, and a nice block downfield by Vincent Jackson. Here's the video. Martin, as usual, was caught from behind on the big play. But that's ok. Bucs fans will take it.
So Martin now sits with 1,038 yards through 11 games — and no contract for 2016.
Joe's happy for Martin's consistency and success, but the Bucs must make him finish the season healthy and strong.
There is nothing to fear. The Bucs could always franchise Martin next season and pay him the one-year, prove-it-again, this time for $10 million, deal mandated by the franchise tag.
Today, Joe would have loved to see Martin get more touches early, as he started the game pounding the rock.
Also, Joe would like to see Dirk Koetter get Martin the ball more often in the passing game. A guy with Martin's explosiveness should have more than one ball thrown his way. Back in 2012, Martin was a much bigger threat out of the backfield.