"Truly Phenomenal"
October 31st, 2015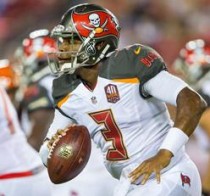 A former Buccaneers quarterback is floored by what he's seen from Jameis Winston, America's Quarterback.
It's all right here on video from Chris Simms, the 35-year-old who played six NFL season and has emerged as one of the best NFL analysts around.
"They don't give him anything easy," Simms told Bleacher Report's Team Stream. "As far as what he has to do at the line of scrimmage, they are getting a run game, but man, the quality of throws that he has to make game in and game out, down the field, into tight windows, off of play-action, truly phenomenal. He really doesn't get many easy completions."
Simms went on to call Jameis a great rhythm thrower.
In comparison to Marcus Mariota, Simms said Jameis is a big step ahead. He believes the Titans offense is built around — and stunted by — Mariota, while Jameis is taking on more and the Bucs' playbook doesn't hold him back.
Simms says Jameis will become a perennial top-10 quarterback and likely ranks in the top half of NFL starters right now.