The Bucs' Path To The Playoffs
October 19th, 2015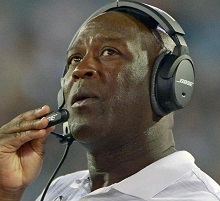 There is true rage and rancor at JoeBucsFan.com world headquarters this morning.
One Joe just isn't feeling the momentum of the team and can't see past Lovie Smith's gruesome defense. The other Joe is bursting with optimism about the offensive line, a down year in the NFC, revived special teams, and Jameis Winston's ability to flat out win a couple of games for the Bucs as his greatness develops through the season.
So upbeat Joe stopped throwing donuts around the office and has typed up the Bucs' path to the playoffs.
@Redskins = Win. Washington is a crap team with a crap quarterback that made the entire Jets offense look like the dominant Patriots or Chargers offense. Bucs won there last year. They can do it again.
@Atlanta = Win. Here's another garbage defense the Bucs can exploit where they're comfortable — on the road. And don't think for a minute that Dirk Koetter won't be out of his mind focused on sticking it to his old team.
Giants = Loss. Emerging Giants team will be favored. Rightly so.
Cowboys = Win. Official Cowboys writers, on the team website, just wrote a feature on the next four games without Tony Romo, which includes this one. Joe's not betting on Matt Cassel.
@Eagles = Loss. Tough spot. Cold weather likely. Eagles have plenty of talent.
@Colts = Loss. Bucs not ready yet.
Falcons  = Win. See above. Falcons are overrated and always beatable, especially when they're on the road.
Saints = Win. Bucs already dominated them in Week 2.
@Rams = Loss. Short week, and Rams will be playing their third consecutive road game. Joe fears for Jameis Winston's health in this game.
Bears = Win. Bears are bad but improving. Perfect spot for Jameis to take over. The Bucs can't lose that game. Simple as that, as Lovie says.
@Carolina = ?? Fantastic chance that the Panthers will be resting starters in this game after clinching home field in the playoffs. Anything goes at that point.
So maybe, just maybe, the Bucs seize a Week 17 gift from the Panthers to go 9-7 and make the playoffs. Under this scenario, the Bucs will have an excellent conference record and the tiebreaker edge on the Falcons.
Of course, this all assumes Lovie Smith can mold his team and get the most out of players from here forward, and use his defensive brain to adjust and stop allowing the most points in the NFL.