Real Balance Achieved
October 26th, 2015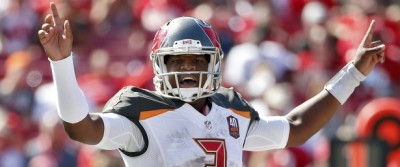 Joe wanted to punch a wall when Lovie Smith repeatedly said the Bucs achieved great balance in their win versus Jacksonville two weeks ago.
Tampa Bay threw 19 times and ran 40.
Yesterday was a different kind of balanced offense in Washington. Real balance, not the BS kind.
Jameis Winston, America's Quarterback, threw 29 times and he handed off 29 times. And whaddya know, Lovie? The offense racked up big numbers and didn't turn the ball over until Charles Sims tossed a lateral in the closing seconds.
Joe hopes Lovie realizes he doesn't have to fear Jameis. More Jameis is a good thing.
Perhaps yesterday's strong showing, the rookie QB's fourth solid outing in six career games, will inspire Lovie to let Jameis play with the game on the line.
Meaningless Bucs field goals, ones that ultimately ask the NFL's worst secondary to win games, are getting real old.