Open Thread For Michael Bennett Healing
October 23rd, 2015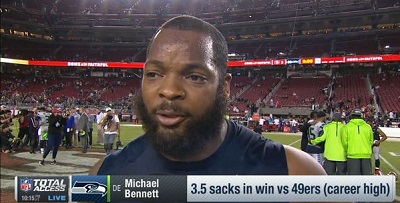 Joe saw it. You saw it. The whole damn country saw it last night
And you thought Michael Johnson was the top ghost haunting the Bucs.
Seattle defensive end Michael Bennett, who sadly tip-toed away from Tampa Bay in free agency after his nearly superstar 2012 season here, racked up 3 1/2 sacks against the 49ers on Thursday Night Football to siege the NFL lead in sacks. And Bennett is well on his way to leading the Seahawks in sacks for the third consecutive season.
On Twitter last night, Bucs fans renewed their outrage for one of the worst personnel moves in team history. The Bucs didn't even offer Bennett a contract.
Just the other night on the Buccaneers Radio Network, Gerald McCoy spoke about how Bennett is one of his closest friends and one of McCoy's bye-week goals was to watch Bennett play. Joe wonders what McCoy is thinking today.
If Bennett has a monster season and somehow Seattle wins the Super Bowl again, folks will start talking about Bennett being on track for the Hall of Fame, as the standout cog in a dominant, historic defense.
But don't worry, Bucs fans can weather that, too. They're used to that after Tampa Bay cut Darrelle Revis.