Lovie Says Bucs (Again) Are "On The Verge"
October 5th, 2015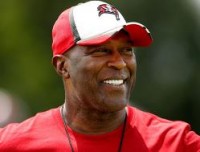 You heard this song before, it was December 15, 2014. Lovie Smith had proclaimed "true football fans can see we're on the verge."
Lovie was back singing a passionate sequel at One Buc Palace moments ago.
After declaring "our football team is getting better," Lovie said Tampa Bay is "fighting hard" and "we saw improvements in so many areas."
And then Lovie proudly stated, "It doesn't really matter who's up next, I just feel we're on the verge of getting that win."
OK. Joe will play along. Lovie Smith has that special feeling. It's called heartburn "Victory!"
Let's see one, Coach.
A home victory for the home fans, all those fans who can't feel the Bucs are on the verge of anything good, all those fans who can't see or feel what you do. Bring home a W against a bad Jaguars team, so Bucs fans can hold their heads high at 2-3 entering a much needed bye week.