"Just A Tweet"
October 20th, 2015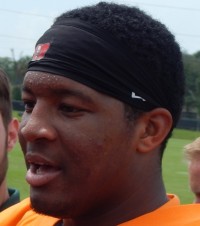 Joe asked Jameis Winston, America's Quarterback, a very pressing question this afternoon.
Jameis, do you get free soda or any Pepsi swag for winning the NFL's Pepsi Rookie Of The Week honor, which Jameis has taken home twice in five games.
Nope. There's no prize, no parting gift. No case of Mountain Dew.
"Just a Tweet," Jameis said.
Shame on Pepsi for jilting America's Quarterback and the rest of the standout rookies. A company spends mountains of cash to sponsor an award and doesn't even FedEx the player a plaque. Coke would never do such a thing.