Jameis Shooting For 4-2 Mark
October 22nd, 2015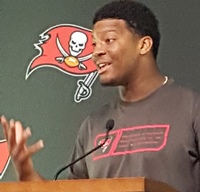 Rookie quarterbacks are inconsistent. It's nearly unavoidable.
But that doesn't mean they have to suck every week.
America's Quarterback, Jameis Winston, has played three good, solid games this season. He's also rolled out two dog-poop performances, rookie showings.
So in a way, up-and-down Jameis is 3-2 this season.
Against the Redskins on Sunday, it's really time for Jameis to find a rhythm, one that gets him to the 4-2 mark.
Considering the Bucs have a sound offensive line (for now), it's reasonable to think Jameis should and could play two good games for every bad one.
That's not wishful thinking.