"I Don't Understand. I Just Don't Understand."
October 28th, 2015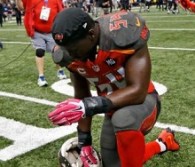 Buccaneers captain Lavonte David painted a troubling picture on Monday night.
Yes, David was very down about the groin-stomp loss in Washington. Who wasn't? But it seems like David is completely mystified and mentally beaten, despite studying the breakdowns.
"When you walk in a meeting room and you see everybody with, you know, these looks on their faces like, 'That's ridiculous for what happened and how it happened.' You know, it's not our character," Lavonte David said on the Buccaneers Radio Network, following breaking down Redskins-Bucs film with teammates and coaches.

"It's disappointing. This will probably be one of the games that probably will stick with me until I get back to work on Wednesday, to be honest.

"I don't understand. I just don't understand. I don't know. I can't really put my finger on it. But I might just even go back and analyze film again. See where we broke down at. Figure out what can I do to not allow that to happen ever again."
What's disturbing is David didn't understand what went wrong after collaborating with coaches.
Remember, Lovie Smith said as soon as players and coaches watch game film and see how mistakes can be fixed, then the healing begins quickly.
For some reason, that didn't take hold with David.