How Close Are The Bucs?
October 16th, 2015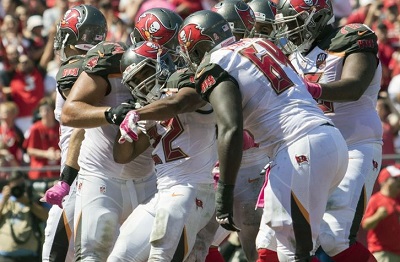 As Joe wrote Sunday, if the season ended now, a two-win team would make the playoffs in the NFC.
Guess what? Your Bucs have two wins, and the NFC South just tightened up.
Joe was among the many millions watching the Saints take the previously undefeated Falcons to the woodshed last night in New Orleans.
Drew Brees put on one of his classic surgical passing clinics against a defense that couldn't breathe on him. The 5-1 Falcons have just seven sacks all season, two by some part-time player named Adrian Clayborn.
The Falcons might be the worst 5-1 team in the history of the NFL. Joe's not going to recap their games here, but Atlanta already had a season full of good luck through their first five games.
New Orleans, folks, is not a good football team.
The Bucs aren't good, either, but perhaps with their newfound momentum, they aren't that far away?
It's easy to be optimistic this morning. The Bucs can't lose this weekend! And their next game, at Washington, is surely winnable. Heck, they won there easily last year.
A 3-3 Bucs team would have a legions of locals entering November fantasizing about making Wild Card road trip in January.