Godfather Brooks Blesses Johnthan Banks
October 16th, 2015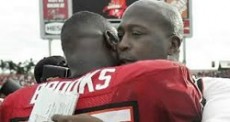 Bucs legend Derrick Brooks is a skilled diplomat when he talks about the Buccaneers on his weekly show, Tampa-2 on WDAE-AM 620.
So it's always noteworthy when Brooks offers a strong message of praise directed at a player.
Speaking with co-host Steve Duemig on Wednesday, Brooks made it clear that he didn't want to make a big deal about Lavonte David having a good day against the Jaguars. Brooks said it was something to build on and there was no reason to get too excited.
But there was a different message when Brooks talked about Johnthan Banks, the third-year cornerback who has missed the past two games with a knee injury suffered in Houston.
Brooks said he had no intimate knowledge of why Alterraun Verner has lost so many snaps to Tim Jennings and Mike Jenkins. However, he does know how valuable Banks is.
"Obviously, Banks not being in affects the play of that secondary," Brooks said. "Because he is one of the guys that, you know, you're saying that's gotten better every single week before his injury. He was that guy even dating back to last year. So again, just hope Johnthan Banks gets back soon as possible.

"But in just putting the spotlight on [Jennings]. Yeah, can he play better? Absolutely. But I don't think all the scores you saw were just totally his fault. But you definitely want him to pick up the play."
Strong praise from Brooks. Hopefully, this represents an indicator that Lovie Smith won't do something crazy, like start Jennings and Jenkins ahead of Banks when he returns soon from injury.