Headset Malfunction Didn't Faze Jameis
October 28th, 2015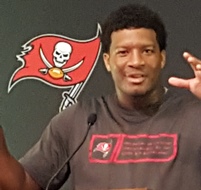 One reason why, far more often than not, rookie quarterbacks struggle is they are learning.
They are trying to swallow a buffet full of information in a short period of time, all while adjusting to the speed and athleticism of the NFL.
Now just six weeks into his rookie campaign, it seems America's Quarterback, Bucs signal-caller Jameis Winston, is handling adverse situations like a seasoned pro.
That was the word from Bucs offensive coordinator Dirk Koetter during his weekly press conference today. Koetter raved about Jameis' play, even mentioning how Jameis coolly and smoothly handled Koetter's headset going out in the second half.
Koetter didn't detail how long or what exactly was wrong with his headset other than saying the communication from him to Jameis went out. Jameis apparently could be heard by Koetter, but Koetter's outbound communication malfunctioned.
Koetter did mention this happened after both Vincent Jackson and Louis Murphy went down to knee injuries, and the Bucs only had two healthy receivers available.
Thus, Koetter used tight ends as receivers when his headset wierded out. Yet Jameis knew exactly where the tight ends should line up, even when the tight ends didn't know.
"We were having a lot of issues with my headset going out," Koetter said. "[Jameis] handled it like champ. He fixed it. After Vincent got hurt and we were down to two wide outs, we were down on the clock a lot and because we were juggling groups, [Jameis] was sometimes talking to tight ends coming out of the huddle, reminding them [where to line up]. Based on the tight end, they were sometimes doing jobs they don't normally do.

"Jameis is growing, fast. He is doing a good job right now."
This is impressive. Even veteran quarterbacks sometimes wig out when a headset goes out. Yet to hear Koetter, Jameis wasn't affected.
So Jameis was able to put the tight ends in position when even they aren't sure where to line up? And folks wonder why Jackson said Jameis is the team's new leader in the locker room?