"Fast-Linebacker Speed"
October 9th, 2015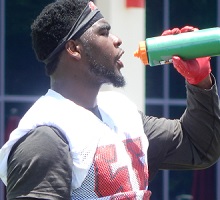 Is Jacquies Smith a damn good defensive end, like he has been since he got a chance to play with the Bucs?
Or is he just a fading wonder who soon will be a Bucs trivia question?
Joe thinks Smith is the real deal, not a star, but an above average football player. And his learning curve has been darn short. The Bucs are Smith's first legitimate shot in the NFL, after the Bills dumped him in September 2014, and after stops in multiple cities and leagues.
Lovie Smith is fully on the Smith bandwagon, too, and the head coach painted him as a complete player earlier this week. Lovie says Smith is equally good against run and pass, and stressed his raw talent.
"You just look at his ability. He has linebacker speed. No, he has fast linebacker speed," Lovie said. "He's a 4.6 [40-yard dash] type guy. Normally you don't get that at the defensive end position. But he has that type of ability where he looks comfortable, you know, in space. And when you get a guy like that coming off an edge, and you can get him matched up against an offensive tackle with less ability, you have something."
Jacquies Smith has been shutout from sacks the past two Sundays, but with four sacks, he still is just a half-sack off the league lead.
Lovie noted that without being asked, and he said Jacquies Smith "has a chance" to be the Bucs' first double-digit sack man since Simeon Rice.
Smith has 10.5 sacks in his last 13 games.
On Sunday against Jacksonville, Smith might face his toughest matchup of 2015, Jags right tackle Jermey Parnell, a big bucks free agent who played for Dallas last year.