Donovan Smith: NFL's 67th Best Tackle?
October 3rd, 2015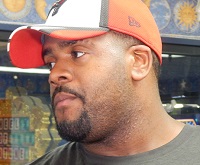 The stat geeks seem to be laughing at the Buccaneers when they break from their spreadsheets and stop pretending they know what they're grading.
While studying all things Panthers at the superior BlackandBlueReview.com, Joe found a piece that wondered aloud about the NFL's active sacks leader, new Panthers defensive end Jared Allen, facing Bucs rookie left tackle Donovan Smith tomorrow.
They shared this nugget that included the latest offensive tackle analysis from everybody's favorite misdirection play, ProFootballFocus.com.
Rivera on Wednesday put Allen's potential playing time at 35-40 snaps. Those could come against rookie Donovan Smith, who started at left tackle in the Bucs' first three games. According to Pro Football Focus, Smith has allowed eight quarterback hurries, a sack and taken three penalties. Of 70 tackles, he's rated 67th.
So Bucs fans, do you believe Smith is that bad, 67th in the league?
Keep in mind this famous stats geek outfit told us following the 2013 season that Anthony Collins was a superstar and Donald Penn was hot garbage.
Collins is home. Penn is a standout on the NFL's sixth-ranked offense, owned by the Oakland Raiders.