Yesterday, Today And Tomorrow
September 14th, 2015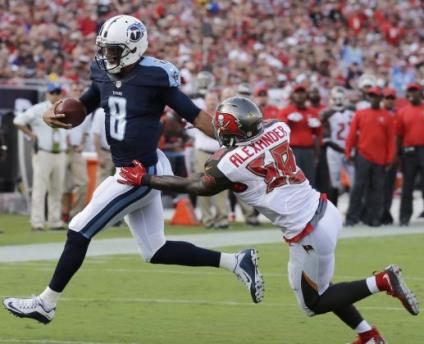 Holy flag football defense It was that bad yesterday. As Joe wrote last night, that was the worst, most ill-prepared Bucs team.
Oh, sure, the Bucs have been alley-beaten too many times for Joe to count since the Bucs jettisoned Chucky.
But never in the first game of the year like that. Never when they had all offseason to prepare. Never when the team, including the coaching staff and front office, researched and watched countless hours of film and had who knows how many chalktalk interviews with Titans quarterback Marcus Mariota?
It is just flabbergasting to be that ill-prepared. What exactly has this coaching staff been doing lo these many months, armed with so much information on an opposing quarterback?
Joe is trying not to overreact, which is very easy to do after Week One. But Jiminy Christmas, to let a rookie quarterback nearly toss a perfect game on his very first NFL start, well, that is about as damning as it gets for a coach.
And make no mistake: this is Lovie Smith's defense. He can't hide behind Leslie Frazier any longer because Lovie took over the play-calling duties. This is all on Lovie. Period. Frazier cannot be used as a scapegoat.
Can Lovie Turn Things Around?
We will know more in two weeks where this Bucs team is headed. But let's take a quick look back. Lovie tore apart an offensive line that, while never to be confused with the 1976 Raiders, wasn't totally terrible. He ripped it apart and, as Raheem Morris once said, "I will tolerate you until I can replace you." To date, Lovie has not replaced Donald Penn, Ted Larsen or Jeremy Zuttah. Now Joe knows the Bucs drafted two rookies who could someday be studs. But that leaky offensive line is a direct result of ripping up the offensive line last year.
Joe is happy to draft and play high-draft-pick rookies, but at least one of those picks would not have been necessary without the ill-advised purge in 2014.
Then, Lovie ran off Darrelle Revis and tried to replace him with Alterraun Verner. Joe likes Verner a lot, but after yesterday, if you think Verner has filled the gap left by Revis, you really must be some kind of stubborn drunk.
Factoring in all the personnel moves that blew up in Lovie's face like a kid playing with gunpowder in a candle factory, and after that completely inept, shameful lack of preparation yesterday, Joe's faith in Lovie turning around this franchise this year has taken a major hit.
Yesterday, Ken Whisenhunt completely and totally coached rings around Lovie. Let that sink in for a moment.
Again, it is just the first game of the season. The Bucs won a Super Bowl after losing to the Saints at home in 2002 to open the season. We'll see how much faith Joe has left for Lovie in two weeks.
Where Was The Dynamic Duo?
One reason Joe is growing skeptical of Lovie is his inability to get production from two of the best players in the NFL: Gerald McCoy and Lavonte David.
GMC got a sack yesterday (yay!), but other than that, well, he was pretty much a non-factor. That's not really GMC's fault. Whisenhunt was smart enough to keep the ball away from GMC. But what about David? He and GMC accounted for six tackles. Both had three and David also had two assists.
One of the quickest, smartest, most versatile linebackers in the game had but three tackles and two assists? That sort of tells Joe that David wasn't put in position to be much of a factor. Given how unprepared and clueless the defense seemed, Joe is going to side with David.
Could David have been a spy of sorts on Mariota? Sure, but that would mean Lovie have adjusted. We all know the answer to that — a big reason why the Bucs are now 2-15 under Lovie.
Siege the day!
Disturbing Lack Of Adjustments
You want to know how badly the Bucs were outcoached yesterday? The Titans made Mariota comfortable by putting him in formations and plays that fit. Jameis? Half the people in China knew the Bucs were going to have trouble with the offensive line. Did the Bucs just once put Jameis in a two-step drop to enable him to get the ball out quickly? A few more designed roll outs might have helped, too.
Last week, offensive coordinator Dirk Koetter said there were all sorts of formations and protections he could use to buy Jameis time. Joe sure never saw any of that.
One team adjusted for its rookie quarterback and it showed. The other seemingly hung their rookie quarterback out to dry.
If the Bucs continue to use Jameis in a five-step drop with opponents all but having a free shot at him, what you saw yesterday very well could be the norm for Jameis. And if Joe can see that, you would think the coaching staff of the Bucs oould. If they don't or can't, there are some very, very, very serious issues with this organization.
As if the final score yesterday wasn't enough of a tipoff.
On To New Orleans
So the Saints coughed up two touchdowns in the fourth quarter to lose their opener, on the road to a playoff team that returned its previously injured franchise quarterback.
Meanwhile, the Bucs got seal-clubbed by a rookie QB making his first NFL start guiding a crap 2-14 team. Galling. Just embarrassing to the nth degree.
Net, the Saints host the Bucs in their home opener in Week Two. This just in: Sean Payton has won six straight home openers.
Pardon Joe if he has more faith in Payton righting his ship in Week Two than Lovie.
If a rookie spread-option quarterback can knife the Bucs the way Mariota did yesterday, imagine how Drew Brees is drooling today?
No Way To Be A Leader
Joe understands how fans always talk about leaders. Personally, Joe thinks this is some of the most inane, empty talk there is, especially when it comes to the Bucs. So you are a leader of a 2-14 team, or a leader on a team that has won twice in its last 17 games? Cute. That's a real resumé builder.
Yesterday, after the game in the locker room, Joe saw something that just wasn't cool, mostly selfish, and a very, very bad example for the rookies the Bucs are banking on for the next decade.
Look, there was no joy in the Bucs' locker room yesterday. Hell, the Bucs play so terrible at home, without looking it up, Joe can't recall the last regular season win at the Den of Depression. Lovie has yet to win there.
But after the game, there was GMC, as usual, manning up and taking the heat. There was Verner, who had a rotten game, answering every question with thoughtful, honest responses. Verner is such a good guy he might still be there answering questions this morning if there were still reporters hanging around.
There were others, too. Henry Melton, Logan Mankins, even Evan Smith. Oh, and all three top draft picks this spring. Jameis, Donovan Smith and Ali Marpet also took all the bullets and gave very much un-cliché answers.
But next to the locker stalls of Marpet and Smith is Vincent Jackson's. With the rookies manning up, as well as other veterans, Jackson did the universal athlete sign of "Leave me alone" by putting on his ear buds with his head buried in his locker. When Greg Auman of the Tampa Bay Times approached Jackson, he shook his head and bolted for the door. Jenny Vrentas of theMMQB.com raced after Jackson, chasing him as he left the locker room, hoping to coax him into a question.
That's a terrible example right in front of two rookies.
Look, Joe knows Jackson doesn't like to talk, but he has after rough losses. Joe gets along with him fine, once in a while chatting off the record about non-football issues (Jackson loves to talk about his dogs). And for the many hours of work Jackson logs for servicemen and women and their families, Jackson cannot be lauded enough. He's really a good dude.
Jackson is also a fixture at Lightning and Rays games. He's very much ingrained in the community and supports the local teams and local charities and other groups. One could say he is a hallmark citizen of Tampa Bay.
Shoot, even Jameis admits he's learned about work ethic by watching Jackson.
But stomping off like that was no way to act for a veteran of Jackson's status in front of impressionable rookies. Just answer two or three vapid questions and get out of dodge.
Besides, the NFL fathers on Park Avenue very much frown on players not talking. In fact, players are required to talk by the NFL. They know that marketing equals dollars and those dollars find themselves into the wallets of players.
A bad move and a bad mistake by generally a good dude.
If the rookies can stand and take the heat, and Jackson's fellow veteran teammates can man up and stand up, so too can Jackson.
Joe doesn't like asking questions of players after yet another in a string of nut-kick losses, certainly any more than players like answering questions after nut-kick losses.
Around The NFL:
Patriots: Yada, yada, yada Tom Brady… yada, yada, yada, Bill Belicheat…
Bills: Whoa, who saw this coming? Andrew Luck had a miserable day by Andrew Luck standards, throwing as many picks as touchdowns. The Bills held the Colts off the scoreboard until midway through the third quarter. Impressive, Capt. Lou Albano, impressive!
Packers: Pretty good game but Aaron Rodgers is just too much. He led the Pack on two fourth-quarter scoring drives to ice the game against the Bears.
Chiefs: Typical Alex Smith day. He throws three touchdown passes, none to a wide receiver. And Brian Hoyer got benched by the Texans for Ryan Mallett. Already! LOL Joe is pretty sure your Texans quarterback next year is Christian Hackenberg.
Stinking Panthers: Stifling defense by the Stinking Panthers. Held the Jags to just three field goals and returned a pick for a second half touchdown. Who is the worst team in Florida, the Bucs or the Jags?
Jets: After Johnny Football gave the Brownies a 7-0 lead, the Jets outscored the Browns 31-3 the rest of the way. Chris Ivory scored a pair of touchdowns.
Rams (OT): Joe cannot remember the stat, but for Super Bowl losing teams, their records in the following season opener are not good. And the Seahawks didn't improve it. Lance Kendricks of the Rams caught a 37-yard touchdown catch from Nick Foles with less than a minute in regulation to tie the game.
Dolphins: Special teams beat the Redskins in what must have been a painful game to watch. Jarvis Landry scored on a 69-yard punt return in the fourth quarter for the win.
Cardinals: Old man Carson Palmer is back. His two second-half touchdown passes put the Saints away..
Chargers: Philip Rivers went crazy in the second half with three touchdown passes. Detroit led 21-10 at halftime.
Broncos: Peyton Manning did not throw a touchdown and was picked once, yet the Broncos pulled out a win over Baltimore Joe can't remember the last time that happened.
Bengals: All puking Andy Dalton does is win. His two touchdown passes were enough to beat Oakland, as Derek Carr injured a hand and was pulled.
Cowboys: Jason Witten's second touchdown catch of the second half, with less than two minutes left, sealed a one-point win against the Giants. Dez Bryant also broke a bone in his foot.
Scatter shooting
* Joe once again calls on NFL smarter heads to spare fans of this nonsense called preseason. Joe is proud to boast that aside from Bucs games, which he has to watch for his job, Joe didn't watch one play of preseason football. Not one. To quote the one and only Chris "Mad Dog" Russo, preseason football is a complete waste of Joe's time. Why would Joe watch that schlop when there is perfect good baseball to watch? The USFL (RIP) had an 18-game schedule and no preseason, and not having preseason games was not the reason the league folded. If the NFL must pacify players by giving them another bye week, so be it. If it means expanding the rosters and capping players at 16 games a season, then do it. The NFL can make a complete windfall by adding two more weeks to the season and ditching these insulting scrimmages. And, yes, if the NFL makes a killing, the players also get a cut. Just stop this nonsense!
* Boy, Jacksonville State sure went turtle in their near upset of Auburn. Deserved to choke, to be honest. Playing not to lose is so gutless and, more often than not, you lose.
* Has the SEC thrown in the towel? Has it raised the white flag? How else to explain they are turning to ACC castoff quarterbacks to lead their teams?
* After watching Miami needing to break a sweat against FAU Friday night, Joe wonders what Dunkin Donuts shop Al Golden will be managing next year. And by the way, you want to know how far Miami has fallen? They scheduled a road game at FAU!
* What is it with Kevin Steele, the new LSU defensive coordinator? Dude is a fantastic defensive coach and one helluva recruiter. But the guy is changing jobs every two years. Either Steele is a restless soul or just cannot get along with people. A guy that good doesn't take horizontal jobs every other year. This "targeting" rule in college football is total BS. Are players not allowed to tackle any longer? Joe saw that thing called too many times Saturday, including USF's Auggie Sanchez as a victim, and each call was at best borderline. Would folks stop trying to PC-up football! If you don't want to be hit, don't play! If you don't want to be hit, play badminton. Stop it!!!
* On Labor Day weekend, Nebraska couldn't have played worse defense than on the Hail Mary in which they lost to BYU. Joe's seen better defense and better pressure in seven-on-seven leagues.
* Joe isn't sure just how good BYU is, but damn, they are a fun team to watch.
* Joe just wants to wing a Bud Light through his 70-inch HDTV. Freaking Mike Matheny is doing his best to run the Cardinals out of the playoffs. First, he runs his pitchers into the ground during the season (including bullpen) and then when he does stupid stuff like skipping starts (in August!) it screws his pitchers up. To compound this, he plays a centerfielder who literally can't throw and scrubs who can't hit when he had guys like Tommy Pham and Greg Garcia, two guys who helped carry the team offensively through a rash of injuries mid-season, ride the pine. If the Redbirds screw this up, it's all on Matheny.
* Joe was surfing the other night and while coming across a 7 p.m. newscast on WFLA-TV Channel 8, noticed sultry Jen Leigh broadcasting from what appeared to be a barstool, with the producer pulling back for a wide frame. How Roger Ailes! Joe applauds this move. It made for a pleasant news-viewing experience and, more importantly, it got Joe to put the clicker down. Why more local TV newscasts don't do this, rather than hide an (attractive) anchor behind a desk, Joe has no idea. Look, TV is a visual medium. When Joe was in college, he proposed this concept to professors and was roundly mocked. Roughly 15 years later, Ailes, the brainchild of FOX News, put this concept into practice and – voila! – ratings through the roof.
* Donald Trump has brought the WWE to politics. If nothing else, it is entertaining as hell.