What's Wrong With Lavonte David?
September 27th, 2015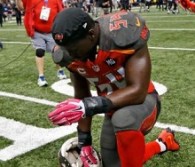 Lavonte David doesn't look like the $10-million-a-year linebacker the Bucs made him this summer.
David isn't playing as well as he did the past couple of years.
The big plays aren't happening, and he has had too many missed/broken tackles this season, including two ugly ones this afternoon in Houston.
It feels like David has regressed, and it started in August with missed tackles.
Joe is at a loss for words. Lovie Smith was talking about David being a star looking at five sacks and five interceptions this season. So far, David has a goose egg in both categories.
And then there was opening day, when David admitted he was broken mentally by the first snap of the game, a personal foul on Major Wright.
Joe really doesn't believe David is enjoying his giant new contract and mailing it in.
But something is wrong. Lovie Smith hasn't figured out how to get the most out of David. And David hasn't stepped up.