"We Love Him So Much"
September 18th, 2015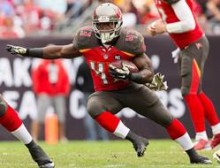 The Bucs spent a whole lot of energy trying to make sure Bobby Rainey wasn't their kickoff and punt returner.
Lovie Smith gave Eric Page a sniff last preseason but wasn't interested. Then undrafted Solomon Patton emerged as the opening-day returner, but he was on the street a month later. Then Tampa Bay signed Trindon Holliday for the job. Then Marcus Thigpen took over.
And all that time, Rainey was on the roster insisting to Lovie and whoever would listen that he could handle the job and perform well.
Rainey finished 2014 as the Bucs returner, but Tampa Bay promptly drafted Kaelin Clay in May to be their No. 1 returner. The sixth-rounder didn't make the roster and was cut from the practice squad on Monday.
Also on Monday, Lovie praised Rainey for his work against the Titans. And Lovie proclaimed his love of all things Rainey on the Buccaneers Radio Network.
"Bobby Rainey did a good job with the returns. It's a shame we had the one good punt return called back. But there'll be another day," Lovie said. ""We love him so much being on our football team. He's a capable running back. If he had to be our primary running back, we feel comfortable in that role. As a returner, we looked at a lot of different guys to see if they could return punts for us and be our kick returner. But nobody can do it the way Bobby does. He can make you miss. He has excellent hands catching the football. So we're expecting big things from him.
"And in time, he's promised me he'll break one."
It remains to be seen whether Rainey will be a good returner. Obviously, Bucs officials didn't think he was special, based on their behavior noted above.
For now, the Bucs have much more pressing concerns up and down the roster. Rainey should be solid.