Vincent Jackson Defends Jameis Pick
September 17th, 2015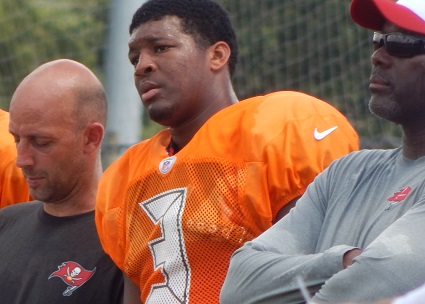 Depending on how you view it, there was an easy or a tough question thrown at Vincent Jackson this afternoon in the Buccaneers locker room.
Pat Donovan of WDAE-AM 620 asked the Bucs' $10-million-per-year wide receiver what a lot of fans are chattering about after Marcus Mariota eviscerated the Tampa Bay defense on Sunday.
Pat Donovan: What do you say to the fans who are already trying to figure out if the Bucs took the right guy at quarterback.

Vincent Jackson: Oh, we absolutely did. There's no doubt in our minds. We are 100 percent confident with the gentlemen we have in this room, from quarterback all the way to the second-string punter. You know what I mean. Our management works really hard putting the right people in here to fit this organization, to fit this scheme. We are absolutely 100 percent supportive behind Jameis. And we are excited to show everybody why."
This was a good question lobbed at VJax, and Joe must express that Jackson responded passionately. Jackson is the ultimate company man, but there was a lot of emotion in his voice.
Man, do the Bucs ever need a win on Sunday.