Uncertainty On Rainey
September 30th, 2015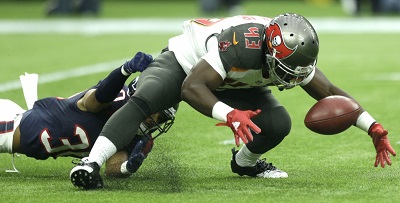 Will Bobby Rainey continue to be the go-to guy returning kicks and punts?
The answer will come Sunday, but Joe wouldn't be surprised is Rainey is ousted after two fumbles in Houston.
First, Rainey appeared to land in Lovie Smith's doghouse after fumbles last season. Second, rookie receiver Adam Humphries was sure handed in those roles in preseason.
Third, Mike James was just cut, giving the Bucs extra incentive not to get their No. 3 running back injured as a returner. Doug Martin and Charles Sims haven't exactly been ironmen during their careers.
Lovie said kicker Kyle Brindza won't be judged by one off day and will return. But Joe's unsure of Rainey. Lovie has seen plenty of Rainey, and did his very best to not have Rainey return kicks last year and this offseason and preseason.
Joe would have no problem giving undrafted Humphries a shot. Rainey might have some mental issues going on when it comes to returns.