THE OPTIMIST: Historic Combination Grows
September 20th, 2015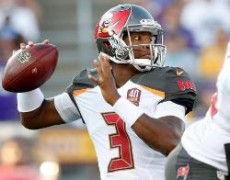 In these unsettled times of devastating Bucs losses, constant change and growing pains, Joe thought it would be wise to bring back THE OPTIMIST.
THE OPTIMIST is Nick Houllis, a Bucs fan and an accomplished writer whose steadfast allegiance to the Buccaneers goes back to the 1970s. Houllis is the founder, creator and guru of BucStop.com, a place Joe goes to get lost in time via Houllis' stunning video collection.
THE OPTIMIST will shine that positive light in your eyes. Some will love it. Some won't. … Of course, THE OPTIMIST's opinions are his alone and are not influenced by Joe.
Fans who remember the first playoff Bucs, the only team in Orange to succeed in the uniforms, the 1978-1982 Bucs, know we had a dynamic pass/receiving combination.
.
And we are on the verge of seeing that happen again.
.
Later this season, Doug Williams will rejoin Jimmie Giles in the Buccaneers Ring of Honor. They joined up so many times on the field. It put Giles in the Pro Bowl as the Bucs' first offensive Pro Bowler, and the only one until the late 90s!!
.
We've had tight ends who weren't half bad, Ron Hall, Dave Moore, Kellen Winslow, Jr., but no combination was more lethal than Williams to Giles, and we may be on the verge of the next — Jameis Winston to Austin Seferian-Jenkins.
.
Nobody likes a tight end that can't block, or can block but can't catch; ASJ can do it all, and already in his second year he has two touchdowns going into Week 2. There will be more in the weeks to come.
.
Jameis loved throwing to his tight end in college, and offensive coordinator Dirk Koetter draws up plays well to his TE, so the numbers and tell tale signs are there. But even last year in his rookie season, you could see Seferian-Jenkins' body of work looked so much like how Giles started in Tampa.
.
After one year, Giles and Williams were a lethal combination, and Winston to ASJ is about to become the favorite TD threat in Tampa Bay.