Texans 19, Buccaneers 9
September 27th, 2015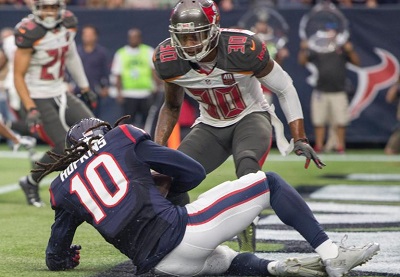 Vaseline hands and feet were the order of the day for the Buccaneers, as they dropped and shanked their way to an embarrassing loss to the Texans.
Lovie Smiths' defense was carved up for more than 400 yards by Ryan Mallett and some dude named Alfred Blue. Shameful.
The Bucs managed just one coverage sack by Henry Melton, despite Mallett dropping back to pass 39 times. That just can't happen under any circumstances. The Texans' offensive line entered the game decimated.
Those drops? Mike Evans had three clear cut ones. And there were others.
Kyle Brindza missed two makeable field goals, one for a go-ahead late score, plus a key extra point. Why did Patrick Murray lose his job?
It's ugly right now, Bucs fans. This was a step backwards against a poor football team.