Shining Licht
September 24th, 2015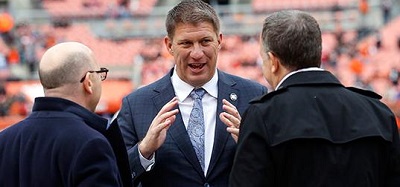 All that screaming and yelling through the winter, spring and summer because Tampa Bay general manager Jason Licht did nothing to bolster the Bucs' offensive line other than snagging two second-round picks.
My how the song has changed.
Licht is shining nowadays in the glow of his last-minute veteran pickups.
Joe wrote countless times that Licht could find live, experienced bodies in late August and early September. And it looks like he did. Starting right tackle Gosder Cherilus and veteran center Joe Hawley, who is expected to start for injured (ankle) Evan Smith on Sunday in Houston, already have looked better than the rotten chicken salad of an offensive line the Bucs put together last season.
The Bucs are running the ball effectively, and Jameis Winston, America's Quarterback, often had time to throw in New Orleans.
Cherilus and Hawley (23 career starts with the Falcons) also should improve as they get more familiar with the Bucs offense and their line mates
Heck, if Demar Dotson returns healthy in less than a month, as is expected, the Bucs would have legitimate depth at both offensive tackle positions. If Smith can make it back, then the Bucs are that much stronger in the depth department. Smith would be an excellent backup.
Yes, backup. Today, Lovie Smith said Hawley almost earned "a game ball" for his work in New Orleans.
Joe hammered the prospects for the Bucs' O-line this season, and the seemingly bad plan in place. But Joe must change his tune. Licht deserves to the bask in the glow of goodness now, and there appears to be a real shot for the Bucs' offensive line to approach being average in 2015.
What a turnaround that would be.