More Snaps Coming For Tim Jennings
September 22nd, 2015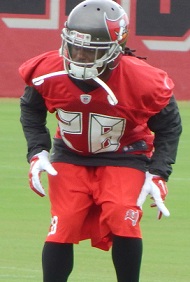 Those listening closely to the Bucs-Saints television broadcast heard Ronde Barber take an early shot at Johnthan Banks.
Joe has accused Barber in the past of parroting Lovie Smith, and continuing the head coach's ongoing quiet assault on Banks in the form of a public love affair with cornerback Mike Jenkins.
During the Saints' second drive, Bucs cornerback Tim Jennings was called for holding on wide receiver Brandin Cooks. Barber quickly said Jennings was covering Cooks because Banks isn't fast enough to cover him.
It was a curious comment considering Jennings likely was holding Cooks because he felt compelled to because of a lack of speed. Also, Jennings, 31, is coming off knee surgery and said he wasn't yet 100 percent just a couple of weeks ago.
Regardless, Lovie Smith shared a lot of love for Jennings during his Total Access radio show yesterday on WDAE-AM 620.
"He's given us a boost," Lovie said of Jennings. "When he became available, I've have had him, so I've been with him in just about every situation. I knew he was a good football player and I knew he could give us some strong corner play.

"He can match up. He's as quick as anybody around. He'll hit you. He has good hands. So for us to get a veteran corner that can play at a high level that knew our system, there were just so many positives. He fit right in with the football team. And we'll continue to get him more and more reps."
Joe hasn't seen a final snap breakdown from the Saints-Bucs game, but it appeared to Joe like Jennings was taking more snaps from Alterraun Verner, and not Banks.
It'll be interesting to see whether Lovie makes a move to start Jennings at some point. Maybe the best men win the starting jobs.