Lovie Says More Vincent Jackson Is Needed
September 29th, 2015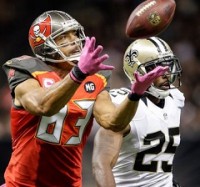 Joe's never quite sure what to make of it when a guy in charge says something needs to happen.
Then order it to happen! Take last year, when Lovie Smith used to say the Bucs must stick with the running game longer.
Well, then Lovie should have gotten on the headset and talked to everyone's favorite fall guy, Marcus Arroyo.
Yesterday on the Buccaneers Radio Network, Lovie said the balance wasn't quite right in the passing game in Houston. More Vincent Jackson was needed.
"I think Vincent was maybe targeted about four times [Sunday]. Yes, we acknowledge that we need to get him involved more," Lovie said. "That's, you know, a great player. But some games you have a favorable matchup with a certain guy. And before you know it you look and it's not exactly, it's not spread out to the way you would like to, as far as to all of your receivers."
To be precise, Jackson was targeted four times, not much for a guy earning $10 million a year. He was targeted five times in New Orleans.
The favorable matchup Lovie referenced was, of course, to Mike Evans, who had 17 balls thrown his way. He caught seven and dropped at least four. Lovie said the Texans were focused on taking V-Jax out of the game.
In the absence of Austin Seferian-Jenkins, Joe would love to see the Bucs have V-Jax play more in the slot and actively seek the best matchup for him.
V-Jax was all over the field during his greatest season. That was the 2012 campaign, when Mike Sullivan led Josh Freeman to throw to V-Jax more than nine times per game. V-Jax caught 72 balls for a whopping 1,384 yards and went to the Pro Bowl.