Lovie, D-Line Coach Talk Up Will Gholston
September 24th, 2015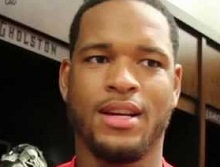 "Push."
Lovie Smith adores using that word when he talks about his interior defensive line.
Speaking on his Total Access radio show on the Buccaneers Radio Network, Lovie praised Clinton McDonald, Henry Melton, Will Gholston and Gerald McCoy for their pass rush — their push — against the Saints.
Lovie paid particular attention to Gholston, talking about him twice in 20 minutes. Then, defensive line coach Joe Cullen joined the show and talked about how the success of the pass rush and how Jacquies Smith's three sacks was about that push. He, too, shined a light on Gholston, who has transitioned from defensive end to defensive tackle this year.
Cullen said Smith getting the edge first was key, and a focus of the game plan was letting the guys in the middle worry about the step up from Drew Brees. Then the luck of timing led to the Bucs slapping around the Hall of Famer, Cullen said.
"Good push at times [from the defensive tackles], and it happened to be at the same times [Smith] beat his tackle around the edge," Cullen said.

The high energy D-line coach seemed a little extra jacked up about Gholston, just like Lovie was.

"Will Gholston, you know, there was a couple of rushes where will drove the guard right into the lap of the quarterback," Cullen said.
Gholston is a real player to watch. He just turned 24 in July and is entering his third season after former Bucs general manager Mark Dominik made him a fifth-round pick in 2015. The thing about Gholston is his mammoth but lean size. He's a true 6-6, 280 pounds with long arms and little body fat.
One of those long arms also blocked an extra point in New Orleans.
Gholston spent his own money to attend defensive line camp for weeks this summer under the direction of Hall of Famer Chris Doleman, and Gholston believes it really made a difference in his game.
He's helped make defensive tackle Tony McDaniel, a starter for the Seahawks the past two seasons, little more than a luxury on the Bucs roster.