Jameis Says He'll "Get My Way" And Be Top Dog, Top Voice On Bucs
September 30th, 2015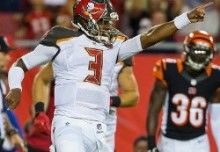 America's Quarterback, Jameis Winston, seems mighty sick of the orders he'd had from Buccaneers veterans to relax and be a rookie and don't worry about leading.
Gerald McCoy led that chorus, one of the silliest songs Joe has heard in years.
McCoy also advised Jameis to be himself. And that's where the contradiction and wackiness lies. Jameis is a natural born leader of men. If he's going to relax and be himself, then you better believe he wants to stand up and put the Bucs on his back.
Jameis talked about that this afternoon at One Buc Palace.
"Any chance I have to be the outspoken leader of this team, I step in and I do it," Jameis said. "That's just my character. That's who I am. You know, I can't be a guy that just be quiet and allow stuff to happen. I speak up positively. Eventually, I'm going to learn, I'm going to get my way into being the big leader on this team. But for now, I'm just playing my role, playing quarterback, and when I have an opportunity, when the opportunity presents itself, I do step in and take it."
That just says it all, Jameis essentially is saying now he's playing a role but will be himself later. The sooner the better, young Jameis.
Later, Jameis explained that "winning is about us," and losing is about the top leader and player.
"There's someone that can control that during the meantime," Jameis said of losing. "And you know, and the great players, they make the difference. They are able to make the difference and help you get a win when you're in a losing situation."
Wins and losses are about production, but losing also is contagious and can be cultural. Chris Conte spelled that out decisively. Joe expects Jameis greatly will help repair the Bucs' losing culture.