Jameis Hit Coach's Goal, Helped O-line
September 29th, 2015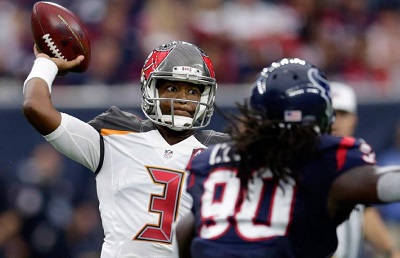 That sacks goose egg dropped by the Texans' defense? Give Jameis Winston, America's Quarterback, plenty of credit, explains his position coach.
Tampa Bay quarterbacks coach Mike Bajakian hopped on the Buccaneers Radio Network on WDAE-AM 620 last night and saidJameis has been challenged with firm weekly goals since his opening-day stinker against the Titans.
Jameis, for the second-week in a row, rose to the occasion on Sunday.
"Hey, let's get rid of the ball on time. Let's make sure we're getting to our checkdowns," Bajakian said were Jameis' big goals in Houston.

"I thought this week he played with great rhythm, got rid of the ball on time. I mean, Houston's front had zero sacks, which is quite an accomplishment, obviously.

"Obviously, that's quite an accomplishment by our offensive line, but I think Jameis' rhythm and decisiveness in the pass game helped in that regard."
Bajakian went on to say every throw in the Bucs' playbook has a designated drop technique and anticipating receivers breaking open in their routes is the biggest adjustment for rookie QBs. Jameis is thriving in those areas.
"He made some throws well before the receivers were out of their breaks," Bajakian said of Jameis.
Right now, Jameis is the beaming light of hope on the Buccaneers.