McCoy Says He's Preparing To Play Offense
September 24th, 2015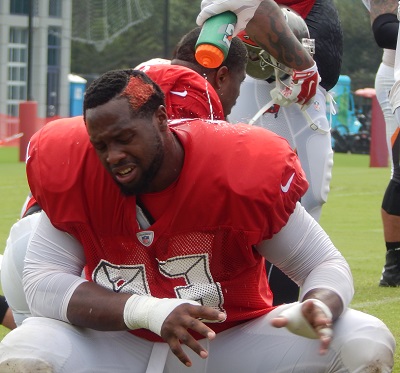 Gerald McCoy is yearning to play offense, and the Bucs' three-time Pro Bowl defensive tackle said Lovie Smith has promised him that opportunity if a certain goal is reached — a goal McCoy is on pace to hit.
Speaking last night on Total Access on the Buccaneers Radio Network on WDAE-AM 620, McCoy said Lovie drew a firm line in the sand.
"I've been lobbying to play offense since I got in the NFL, before, you know, J.J. Watt even showed up," McCoy said. "Lovie told me I have to get 15 sacks before I can play offense. So I said, 'Done deal.'

"And then he was like, 'Well, honestly, Gerald, if you get 15 sacks, we'll let you do anything you want.' So that's my goal."
NFL fans are well aware that Watt of the Texans, the reigning Defensive Player of the Year who faces the Bucs on Sunday, has played multiple positions on offense.
McCoy wants the same shot. With two sacks, McCoy is on pace to hit that magic 15.
"I don't care if I'm a fullback, a tight end, an extra O-lineman, it doesn't matter. I'll block. I'll do whatever. I just want to win," McCoy said.
"Being in the offense is just always a D-lineman's dream," McCoy said.
McCoy said he already knows enough about the Bucs offense to play if called upon. The implication was that there are a couple of McCoy options in the playbook right now.
"Stay tuned, Bucs fans," McCoy said. "But don't hold your breath."