Everybody Put Your Hands Up
September 16th, 2015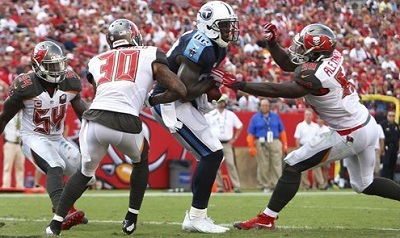 Yesterday, Lavonte David identified one problem with the Bucs' defense.
And it wasn't their mental collapse with 59 1/2 minutes to play.
David joined the Ron and Ian show on WDAE-AM 620 yesterday and tipped his cap to Titans quarterback Marcus Mariota, but said the Bucs were to blame, as well.
Fundamentals bit them in the butt.
"We gotta do a better job on our behalf of, you know, getting our hands up, things like that, disrupting the ball, getting in the throwing lanes better," David said.
What's most troubling about the mistakes David identified is the Bucs are rolling with a hand-picked, Lovie Smith crew of veterans, minus rookie Kwon Alexander. And it was Alexander who had a pass breakup by jumping a throwing lane in the first quarter. He got his left hand on a hot pass and almost pulled it in.
Collectively, it's a not a Bucs defense that should be struggling with basics.