Bucs Studied Other Teams To Form QB Plan
September 19th, 2015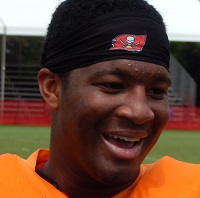 Over at NFL.com, Albert Breer penned a look at where Marcus Mariota and Jameis Winston, America's Quarterback, stand with their general managers.
Some interesting nuggets in there.
Bucs general manager Jason Licht, of course, said he would draft Jameis again in a heartbeat and lauded the fire and desire in his new QB. Week 1 was just a giant learning experience, Licht detailed.
But also revealed in story was a take on how the Bucs not only studied the quarterbacks in the draft, but investigated how other teams developed their quarterbacks. One would think that likely helped shape who the Bucs drafted.
To that end, as part of their draft process, the Bucs actually studied how other teams brought other quarterbacks through their systems and helped them grow up. They saw the success stories, and the ones that went off the rails. Now, they'll go about getting Winston back on them.

"We talked to a lot of our counterparts who took quarterbacks and asked them how they did it," Licht said. "The ones that made it. And the ones that didn't. And we're using that as part of our plan."

Asked what he learned through that research, the Bucs GM clammed up. That's proprietary.
Man, Joe really wonders who the Bucs talked to and what was gleaned. Did Licht and Lovie Smith dare to study how Josh Freeman developed and had a superstar season (10 wins, 25 TDS, six picks) in Tampa at 22 years old? Did somebody call unemployed Mike Smith to figure out how Matt Ryan was 11-5 and completed 61 percent of his passes as a rookie?
Joe could speculate endlessly.
Regardless, Joe's not sure there is any perfect formula. Cam Newton and Andy Dalton had fantastic rookie seasons in 2011, and they missed three valuable months of development because of the asinine lockout.