Bucs Rank 24th In Yards Per Carry
September 28th, 2015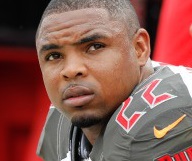 Joe's really getting sick and tired of hearing about the Texans' defense.
The reality is the Bucs didn't run the ball yesterday nearly as well as most teams do against Houston.
As a result, the Bucs are now averaging just 3.6 yards per carry, tied for 24th best in the NFL. Last year, Houston allowed four yards per carry, and they had the same average this year — until the Bucs arrived in town. So stop pretending Houston is a group of savage run stuffers.
Yesterday, Tampa Bay had 20 carries for 57 yards.
Through three games, Doug Martin has 46 carries for 176 yards, a 3.8-per-carry average. And Martin even ran quite hard yesterday, once turning a four-yard loss into a no gain. It was a strong effort.
Whatever is going on, the Bucs are struggling to pound the rock. Joe has heard former Bucs Shaun King and Ian Beckles mightily praise the offensive line on WDAE-AM 620 today. But Joe really has to qualify that as reserved to pass blocking.
The only other explanation is that the Bucs' running backs are overrated. Joe has no conclusion yet.