Anything But 0-3
September 2nd, 2015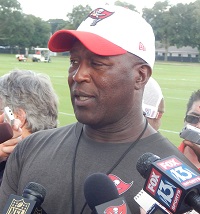 Joe's been around town quite a bit the past few days and the collective Bucs-fan freakout is astounding. From poker tables to barber shops, it's everywhere.
It seems the first-team Buccaneers playing one whole game through the course of three meaningless preseason games has injected panic into the streets.
Joe gets it. The Bucs look shaky and inconsistent, and fans are living the Bucs life. They're so hungry for wins and a respectable team, more than Joe hungers to be asked by Hooters Calendar to spray gentle mist at all their photo shoots.
Some of this is fueled by what Joe calls the Lovie Loyalists. These fans supremely believe in the head coach, and they latch on to what he proudly proclaimed in December 2015: "True football fans can see we're on the verge." The Lovie Loyalists can't fathom that they just watched a Browns team led by career loser Josh McCown pummel the Bucs in all phases– in Tampa.
When Joe is calm and pondering all things Bucs, Joe is not too nervous. The Bucs should be improved and America's Quarterback, Jameis Winston, if he can stay healthy, should lead Tampa Bay to a six-win season and out of the NFC South cellar. That's not too much to ask.
However, what makes Joe shake violently is the thought of the Bucs going 0-3. After opening day against the Titans, the Bucs head for road games in New Orleans and Houston.
They just can't go 0-3. Anger will rage in the streets, many fans will start focusing on the draft, and the inevitable hot seat talk will engulf Lovie Smith like a California wild fire.
Please, Bucs. Just find a way to not go 0-3. Any freakin' way.
Simple as that, as Lovie says.