Ali Marpet Wants 60 Minutes
September 7th, 2015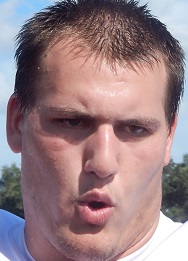 A lot of hopes rest on the Bucs' hulking rookie right guard from Division III Hobart College.
Ali Marpet had many struggles and lots of success in preseason and training camp. But the rookie didn't get to showcase his full game.
You see, Marpet is more manbeast athlete than technician at this point. Joe talked to Marpet about finally getting a chance to play 60 minutes on Sunday against the Titans, and the rookie Marpet can't wait to use his strength and young body up to grind down the Titans.
"Going into a full game is a different mentality than the preseason," Marpet said. "I think that we will be able to wear people down. I believe I can do it late in a game. As our coach says, football is a game of attrition, so that's sort of our mindset."
Those sacks Marpet allowed and his rough moments? All part of learning, Marpet said. He's also very proud of how the Bucs showed they can pound the rock.
"We know we can run the ball. We should be able to run the ball," Marpet said. "I'm confident in my abilities. I know I'm a good football player."