Zero Tolerance Policy?
August 18th, 2015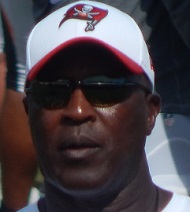 Joe absolutely has to give it up to Lovie Smith.
Congratulations, Coach. Joe smells real positive change from a man known for sticking to his plan at all costs.
If you missed it yesterday, freshly-turned 21-year-old rookie Kwon Alexander, a fourth-round pick, was inserted into a starting middle linebacker role. That could change, of course. But Joe doesn't think this would have happened in 2014.
Lovie Smith demoted prized free agent linebacker Bruce Carter, an offseason pick-up from the Cowboys.
It was Lovie himself who told Joe and assembled media at the 2014 NFL Owners Meetings that he didn't sign free agents with an intent of putting them on the bench. Lovie said quality free agents want to know they're in line to start, otherwise they're not too interested in signing.
Last year, Lovie stuck with Michael Johnson at right defensive end, despite Johnson dragging the entire defense down with subpar effort and poor play. Other free agents also were allowed to stay comfortable in starting roles they didn't deserve. A certain career loser of a starting quarterback comes to mind, among others.
But it seems Lovie will have absolutely none of that in 2015. Joe's not saying Carter is bad or a bust in any way. But Joe doesn't think Lovie would have considered this change to a top free agent in August last year.
Joe loves what seems to be a new mentality. And it wouldn't surprise Joe to see Lovie make more depth-chart changes on his defense, especially at defensive end.