Video: English Lessons
August 7th, 2015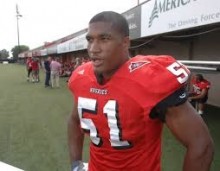 A win for the defense is a head-shaking moment for the offense. It's the see-saw of training camp.
But anything that can lead to the impaling of Jamies Winston, America's Quarterback, is a bit troubling.
Kudos to Larry English today for beating Demar Dotson badly with an inside rush, and later schooling rookie left tackle Donovan Smith with a bull rush.
Joe's got video (and will have more). Enjoy, or weep, depending on your perspective.