Tony McDaniel Says Michael Bennett Helped Sell Him On Tampa and Bennett "Wishes He Could Come Back Down Here"
August 11th, 2015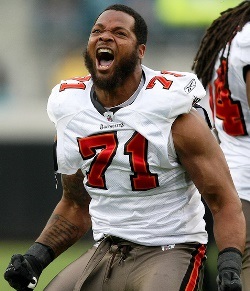 The Buccaneers' new defensive tackle, 2013 and 2014 Seahawks starter Tony McDaniel, was practicing today at One Buc Palace.
And he told Joe that former Bucs star and Seahawks defensive end Michael Bennett, who was allowed to walk from the Bucs for no good reason, influenced his decision to sign with Tampa Bay.
McDaniel said after practice that "like 12 different teams" were pursuing him since he was cut in early August by Seattle.
McDaniel said coming to an emerging team looking for a run stuffer was very attractive to him.
Joe wanted to look deeper.
JoeBucsFan.com: Did Michael Bennett sell you on Gerald McCoy at all?

Tony McDaniel: No question. I told him about, you know, I told him about some of the teams that were offering me and he said Tampa was a great place, and he even said he wishes he could come back down here. But yeah, he kind of helped sell me to come down here to Tampa and play.

Joe: Are you going to get him back here?

McDaniel: Yes, sir. I'd love to have him.
So how about that! Michael Bennett deserves a "thank you" for helping the Bucs get needed depth. And Bennett wants to come back to where he belongs. We miss you, Michael.