First Bucs Brawl Of 2015 Training Camp
August 11th, 2015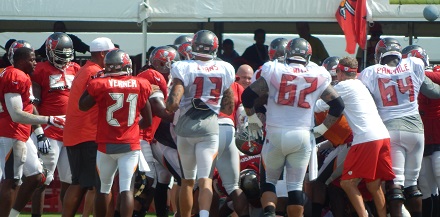 UPDATED 5:50 p.m. Midway through today's practice, something set off George Johnson and other Bucs in the trenches at One Buc Palace.
Yes, that's America's Quarterback, Jameis Winston, in the orange jersey being held back by offensive coordinator Dirk Koetter.
Don't doubt it. This next photo shows it was Jameis next to Evan Smith when they stood up.
It turns out the fight was between Johnson and Demar Dotson. Joe talked to Dotson after practice, and the right tackle blamed the "Tampa heat" — and Johnson returning fresh after two days off.
"It's just hot. When you're hot, tempers started to flare a little bit," Dotson said. "Me and George, George had a few days off so George was feeling good, and my legs are still stuck in mud. Ain't nothing spark it, man. George just doing what he do, you know, and tempers started to get a little flared up. We talked about it afterwards. Hopefully, there's no hard feelings."
Lovie Smith just shrugged when asked about the scrum at his post-practice news conference. He just called it guys competing.
Stay tuned for Joe's comprehensive practice notes this evening, and much more.