Titans Watch: 29 More Days
August 15th, 2015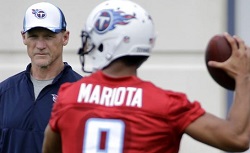 Marcus Mariota and the sickly Tennessee Titans, the Bucs' opening day opponent, kicked off the preseason last night in Atlanta.
First, Joe must say that the Falcons' aerial assault was razor sharp, absolutely carved up the Titans. Matt Ryan opened up 6-for-6 with a touchdown on the first 91-yard drive and did not return. Sheesh.
The Titans pass rush did not breathe on Ryan.
Mariota, though, was not so hot.
Mariota's first throw, on second down, was a read-option look that Atlanta chomped on, leaving Mariota with an easy throw to Harry Douglas in the right flat for a first down, 11 yards.
His second pass also was complete, this time out of an empty-backfield look. A four-yard toss on 2nd-and-3.
Mariota dropped back in play-action on the next snap and seemed stunned by the pass rush. He didn't try to elude and took an 11-yard sack. The play forced the Titans into a timeout because the sack left Mariota's helmet in need of repair.
Now 2nd-and-21, Mariota throws a bad pick on a screen pass, and proceeds to miss the tackle on the interceptor. Mariota is then seen smiling on the sidelines.
On the second drive for the young Hawaiian, the Titans run twice before Mariota heads to the shotgun on third down. The ball is slapped out of his hand and becomes a scoop-and-score for the Falcons. Announcer Eddie George, the former running back great, advises Mariota to learn how to step up in the pocket in the NFL.
That was enough for Joe. Mariota finished 7-for-8 for 94 yards. His best throw might have been a 17-yard laser in traffic to Douglas in the right seam. The throw came out of the shotgun.
Joe hopes last night killed all the talk of Mariota being some sort of Superman because he didn't throw interceptions in training camp.