Titans Watch: 26 More Days
August 18th, 2015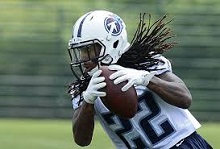 Joe's already called opening day against the Tennessee Titans on Sept. 13 in Tampa a "must-win."
It's not a must-win for the standings. Duh. But it is necessary for the psyche of a fanbase that's hasn't seen a home victory since 2013, and compares Jameis Winston to Marcus Mariota.
Leave it to the lousy Titans to be confused by how to use one of their top free-agents last year, Dexter McCluster, the pride of Largo.
Joe hoped McCluster, the do-it-all running back/returner was on the Bucs' radar last season, but that didn't happen. Instead, the 2013 Pro Bowler, who's still just 25 years old, signed with Tennessee for about $4 million per year and little guaranteed money.
Now, McCluster is publicly begging for the rock, reports The Tennesseean.
"When people say, 'How do you use this guy?' or they claim they can't use him, I say, 'Just let me play,'" McCluster said. "That's all I ask: 'Let me prove to you what I can do.' "

Last season he had 26 catches for 197 yards, 40 rushing attempts for 131 yards and 22 punt returns for 155 yards. He had the fifth most catches on the team and the third most rushing attempts.